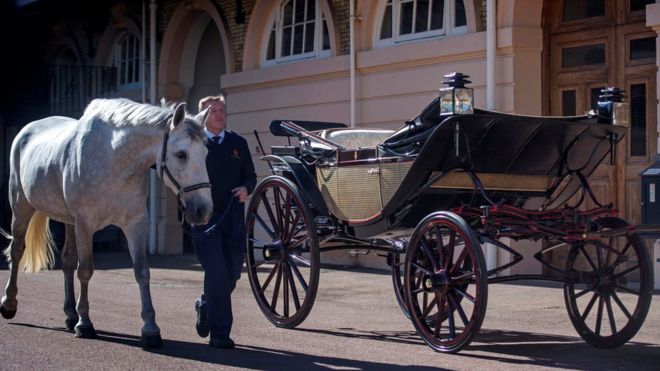 picture - REUTERS
Four Windsor Grey horses will pull the newlyweds in the Ascot Landau carriage
A rehearsal of the carriage procession through Windsor for the wedding of Prince Harry and Meghan Markle is due to be held.
More than 250 members of the armed forces will take part in the rehearsal - along with the couple's carriage.
After tying the knot on Saturday, Harry and Ms Markle will travel through Windsor in the Ascot Landau carriage.
Used in official and ceremonial state events, the carriage will be pulled by Windsor grey horses.
On Saturday the procession will take place at 13:00 BST, after the hour-long service at St George's Chapel.
Members of both families will gather on the steps of the chapel to wave off the newlyweds on their carriage procession, which is expected to last about 25 minutes.
The carriage will leave Castle Hill, travel through Windsor and then it will proceed up the Long Walk all the way back to St George's Hall by Windsor Castle.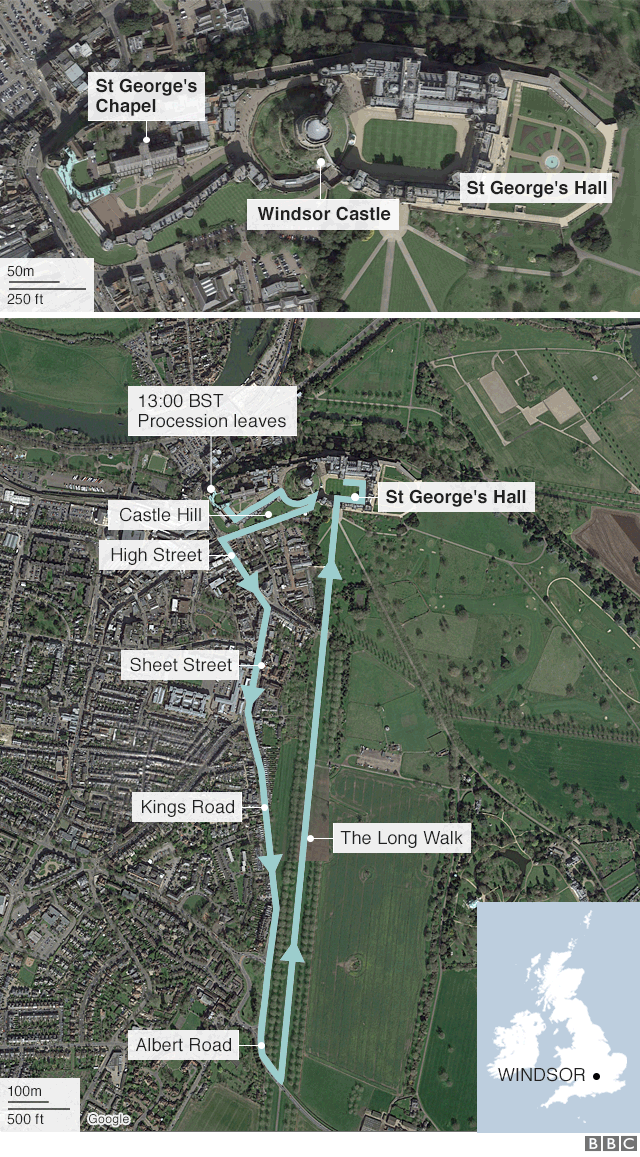 Kensington Palace revealed on Wednesday that Prince Harry's niece, three-year-old Princess Charlotte, will be one of six bridesmaids at the wedding.
Her elder brother, Prince George, aged four, will be a pageboy alongside three other young boys.
The 10 children who have been chosen are all aged seven or under.
So far, the details of the bridesmaids' dresses and the pageboys' uniforms remain under wraps.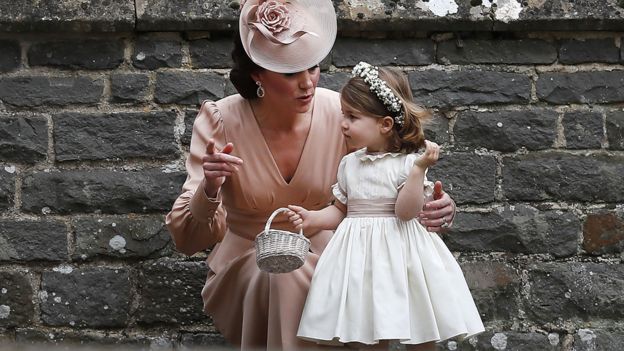 picture - GETTY IMAGES
Princess Charlotte was a bridesmaid at her aunt's wedding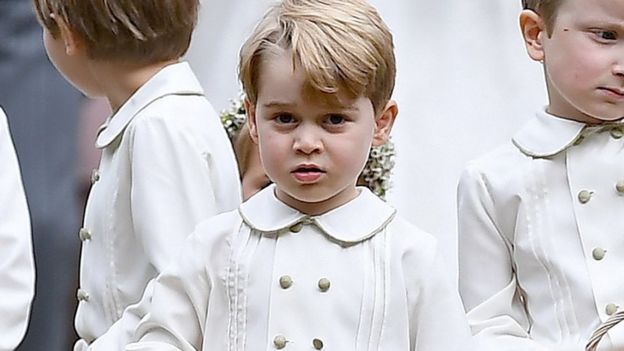 picture - PA
Prince George also comes to the role with experience
Ms Markle, 36, will not have a maid of honour because she wanted to avoid choosing between her closest friends.
As BBC broadcasted today
http://www.bbc.co.uk/news/uk-44142470
In honour of Prince Harry and Meghan Markle's upcoming Royal Wedding, we (UGears) are offering a limited edition Royal Carriage model! This laser-cut wooden model kit features both Harry and Meghan sitting in a carriage modeled after the 1902 State Landau. If you want to remember the special day for years to come with your own model carriage fit for Royalty, order yours today!
UGears Royal Carriage, Harry, and Meghan, Royal wedding, Royal wedding gifts, Royal Couple, Royal Carriage Model, Best Souvenirs and Gifts, Royal Wedding Souvenirs, Royal Wedding mug, UGears Royal Carriage, Official Commemorative China, Best Royal Wedding Memorabilia
UGears Royal Carriage, Harry, and Meghan, Royal wedding, Royal wedding gifts, Royal Couple, Royal Carriage Model, Best Souvenirs and Gifts, Royal Wedding Souvenirs, Royal Wedding mug, UGears Royal Carriage, Official Commemorative China, Best Royal Wedding Memorabilia
UGears Royal Carriage, Harry, and Meghan, Royal wedding, Royal wedding gifts, Royal Couple, Royal Carriage Model, Best Souvenirs and Gifts, Royal Wedding Souvenirs, Royal Wedding mug, UGears Royal Carriage, Official Commemorative China, Best Royal Wedding Memorabilia
UGears Royal Carriage, Harry, and Meghan, Royal wedding, Royal wedding gifts, Royal Couple, Royal Carriage Model, Best Souvenirs and Gifts, Royal Wedding Souvenirs, Royal Wedding mug, UGears Royal Carriage, Official Commemorative China, Best Royal Wedding Memorabilia
UGears Royal Carriage, Harry, and Meghan, Royal wedding, Royal wedding gifts, Royal Couple, Royal Carriage Model, Best Souvenirs and Gifts, Royal Wedding Souvenirs, Royal Wedding mug, UGears Royal Carriage, Official Commemorative China, Best Royal Wedding Memorabilia
UGears Royal Carriage, Harry, and Meghan, Royal wedding, Royal wedding gifts, Royal Couple, Royal Carriage Model, Best Souvenirs and Gifts, Royal Wedding Souvenirs, Royal Wedding mug, UGears Royal Carriage, Official Commemorative China, Best Royal Wedding Memorabilia